NVIDIA Corporation
NVDA
Delayed Nasdaq - 01/23 10:00:00 pm
Nvidia : NVDA) Just Made Huge Progress in Self-driving Cars
03/20/2017 | 03:50 pm
Written by Ophir Gottlieb
PREFACE
It's been a busy week in the world of self-driving cars, from Intel Corporation's (NASDAQ:INTC) acquisition of Mobileye, to Uber and Alphabet Incs (NASDAQ:GOOGL) Waymo high stakes lawsuit. But, missed in all the fuss was actual real news -- the undisputed leader, Nvidia Corporation (NASDAQ:NVDA), is making waves to further its lead in self-driving cars and turn the segment into a multi-billion dollar business.
BROADLY
We won't cover the full magnitude of Nvidia Corporation's story in this dossier, so today we will focus on the self-driving piece of the NVDA story. First, context: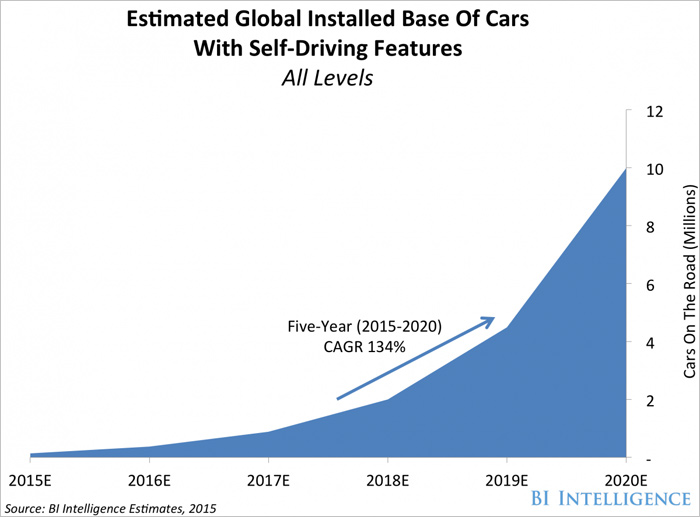 That's the anticipated growth, broadly, for self-driving featured cars industry wide. And here are the snippets from Nvidia Corporation's latest earnings call that pertain to this segment:
* Revenue grew to a record $128 million, up 38% year-over-year.
* One of the highlights at CES was the demonstration of our own autonomous car, dubbed BB8.
* Audi will deliver Level 3 autonomy in its A8 luxury sedan later this year.
* We also shared news at CES of our partnership with Mercedes-Benz to collaborate on a car that will be available by year's end.
* Tesla began delivering a new autopilot system powered by the NVIDIA DRIVE PX 2 platform in every new Model S and Model X, to be followed by the Model 3.
* Volvo started turning over the keys to initial customers of its Drive Me program. Its XC90 SUVs equipped with DRIVE PX 2 are capable of fully autonomous operation on designated roads.
With NVIDIAs powering the market's only self-driving cars and partnerships with leading automakers, Tier 1 suppliers, and mapping companies, we feel very confident in our position as the transportation industry moves to autonomous vehicles.
That was already known -- and even just those pieces are enough to remind us that the bumbling Mobileye and an ancient Intel are hardly an issue for Nvidia Corporation. Alphabet Inc's (NASDAQ:GOOGL) Waymo could be a worthy competitor, but all voices from inside Silicon Valley say that Alphabet Inc isn't quite there yet.
The headlines may have received a lot of clicks and ad revenue, but they didn't cover the real news -- which is that the best and brightest is still Nvidia and it made real waves this week.
STORY I: TRUCKS
First, Nvidia Corporation (NASDAQ:NVDA) announced on March 16th, 2017 that its working with PACCAR, a leading global truck manufacturer, on developing solutions for autonomous vehicles. The collaboration was shared by NVIDIA Founder and CEO Jen-Hsun Huang during his keynote at the Bosch Connected World conference in Berlin (Source: Nvidia Blog).
If you're wondering if the self-driving truck world is really 'a thing,' we assure you, it is.
* There are 300 million trucks in the world.
* 1.2 trillion miles are driven every year.
Nvidia Corporation is "working to make every one of them safer with NVIDIA DRIVE PX AI computers, powered by deep learning." Here is a wonderful video that hits the high points and even has some cool musical scoring:
But that was just one piece of news. There was even more.
STORY II: CARS
Just a day before that announcement, Nvidia Corporation announced a partnership with Bosch, the world's largest automotive supplier, through its news channel on its website.
NVIDIA and Bosch are developing an AI self-driving car computer built on NVIDIA's deep learning software and hardware that enables vehicles to be trained on the complexities of driving, operated autonomously and updated over the air with new features and capabilities.
The goal here is very clear: To develop artificial intelligence self-driving systems for mass market cars.
The Bosch AI car computer system will be based on next-generation NVIDIA DRIVE™ PX technology with Xavier, the upcoming AI car superchip, the world's first single-chip processor designed to achieve level-4 autonomous driving.
WHY THIS MATTERS
In order to identify Nvidia Corporation (NASDAQ:NVDA), as we did when it was trading for $32, and to find the 'next Apple,' 'next Amazon,' or 'next Google' we have to get ahead of the curve. This is what CML Pro does. Our research sits side-by-side with Goldman Sachs, Morgan Stanley and the rest on professional terminals, but we are the anti-institution and break the information advantage the top .1% have.
Each company in our 'Top Picks' is the single winner in an exploding thematic shift like artificial intelligence, machine learning, genomics, the Internet of Things, drones, biotech and more. In fact, here are just two of the trends that will radically affect the future that we are ahead of: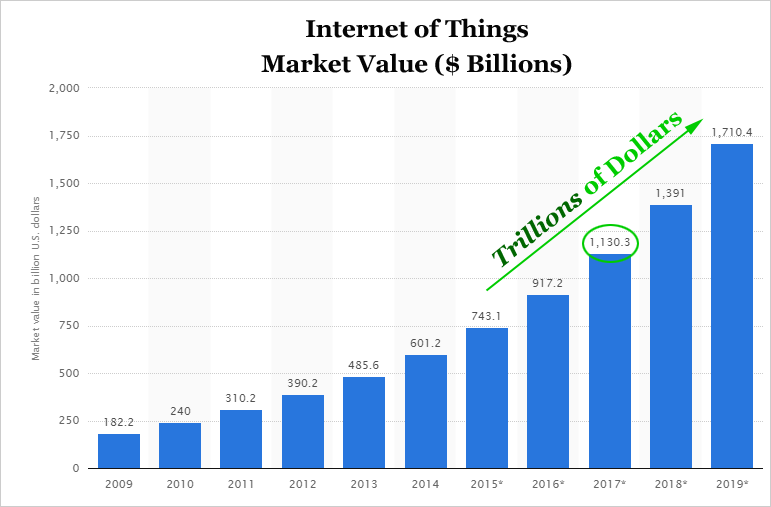 The Internet of Things (IoT) market will be measured in trillions of dollars as of next year. CML Pro has named the top two companies that will benefit. Then there's cyber security: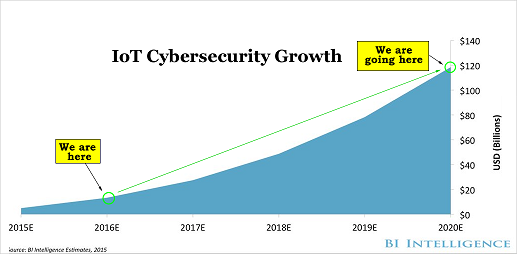 Market correction or not, recession or not, the growth in this area is a near certainty, even if projections come down, this is happening. CML Pro has named the single best cyber security stock to benefit from this theme.
These are just two of the themes we have identified and this is just one of the fantastic reports CML Pro members get along with all the visual tools, the precious few thematic top picks for 2017, research dossiers and alerts. For a limited time we are offering CML Pro at a 80% discount for $19/mo. Join Us: Get the most advanced premium research delivered to your inbox along with access to visual tools and data that until now has only been made available to the top 0.1%.
Thanks for reading, friends. The author is long shares of Nvidia Corporation (NASDAQ:NVDA).
Please read the legal disclaimers below.
The information contained on this site is provided for general informational purposes, as a convenience to the readers. The materials are not a substitute for obtaining professional advice from a qualified person, firm or corporation. Consult the appropriate professional advisor for more complete and current information. Capital Market Laboratories ("The Company") does not engage in rendering any legal or professional services by placing these general informational materials on this website.
The Company specifically disclaims any liability, whether based in contract, tort, strict liability or otherwise, for any direct, indirect, incidental, consequential, or special damages arising out of or in any way connected with access to or use of the site, even if we have been advised of the possibility of such damages, including liability in connection with mistakes or omissions in, or delays in transmission of, information to or from the user, interruptions in telecommunications connections to the site or viruses.
The Company make no representations or warranties about the accuracy or completeness of the information contained on this website. Any links provided to other server sites are offered as a matter of convenience and in no way are meant to imply that The Company endorses, sponsors, promotes or is affiliated with the owners of or participants in those sites, or endorse any information contained on those sites, unless expressly stated.
Copyright © 2017 Baystreet.ca Media Corp. All rights reserved., source Standard Equities Feed
© Acquiremedia 2018